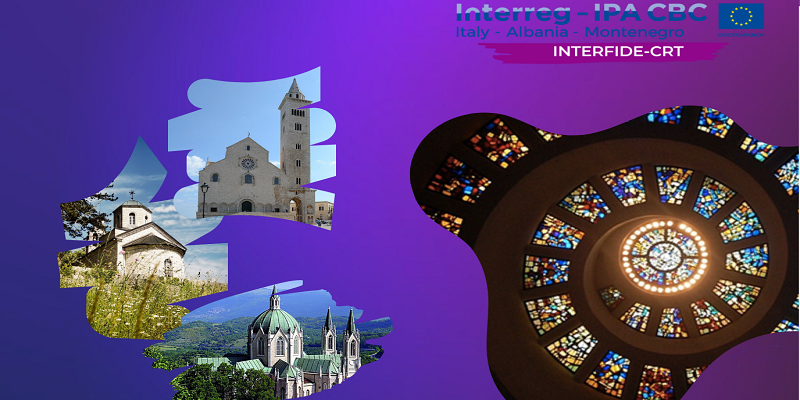 INTERFIDE-CRT: Discover interfaith tourism in the South Adriatic area!
Overview
The InterFide-CRT project Consortium is pleased to announce the release of promotional materials about interfaith tourism in the South Adriatic area. 
The project brochure was created to wrap-up the first phase of the project and communicate to interested stakeholders about its key objectives, activities and methodology, and how to participate in it.
A project presentation was also created in the occasion of two project events to be held on 12 October 2022 in Brussels, to raise awareness of international stakeholders about how cross-border cooperation can help local authorities and actors to jointly create a new perspective for boosting sustainable tourism. View the presentation here.
In a concise, but appealing format, the power point presentation summarises the project goals, activities and expected results and presents the project consortium. Also, it provides evidence of progress made by the partners in assessing the tourism potential of the Italy-Albania-Montenegro interfaith destinations, as achieved by implementing two cross-border Pilot Tours that have been taking place in 2022, one in May and the other in October 2022.
Two additional brochures summarise the results of this intense collaboration and productive reciprocal learning that led the implementation of the InterFide-CRT Pilot Tours and the involvement of sector experts in travelling across the cooperation area and find out the assets and structural characteristics of a cross-border interfaith destination. The brochures seek to stimulate the development of sustainable and interfaith tourism in the cooperation area especially by establishing a link between urban and rural-remote areas and by stimulating the attractiveness of reciprocal interfaith assets.

If we have awakened your interest, please, contact us to receive the materials at vizartngo@gmail.com!
Also, in order to be constantly updated abut project activities, follow us on Facebook!